The Polblume has been on the market since 1989. So far, the company's activity has included the production of cardboard packaging and trade in office supplies.
As a result of restructuring in 2009, the company became the Waste Electrical and Electronic Equipment Processing and Waste Recycling Plant, where we provide comprehensive services consisting in collection, transport and waste management as well as subjecting them to recovery processes. We provide services to both companies and individuals.
We operate on the basis of the decision of the Marshal of the Mazowieckie Voivodeship No. 77/16 / PZ.O, which allows us to conduct activities in the field of collection, recovery and transport of waste. The company is entered in the Register of Entrepreneurs and Electric and Electronic Equipment Recovery Organization kept by the Chief Inspectorate for Environmental Protection under No. E0010352ZPR.
Polblume is an active member of the following industry organizations:
Association of the Group of Polish Entrepreneurs Ecology (GPP Ekologia)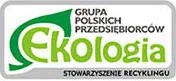 Waste Management and Recycling Cluster


The primary goal of Polblume is the best waste management in accordance with the latest available technologies. Having the permits required for this type of activity, we provide you with waste management in accordance with the Environmental Protection Law.
By using our services, you can contribute to reducing the pollution of the surrounding environment.